You must be old enough to consume alcohol legally in your country of residence.
Enter in the website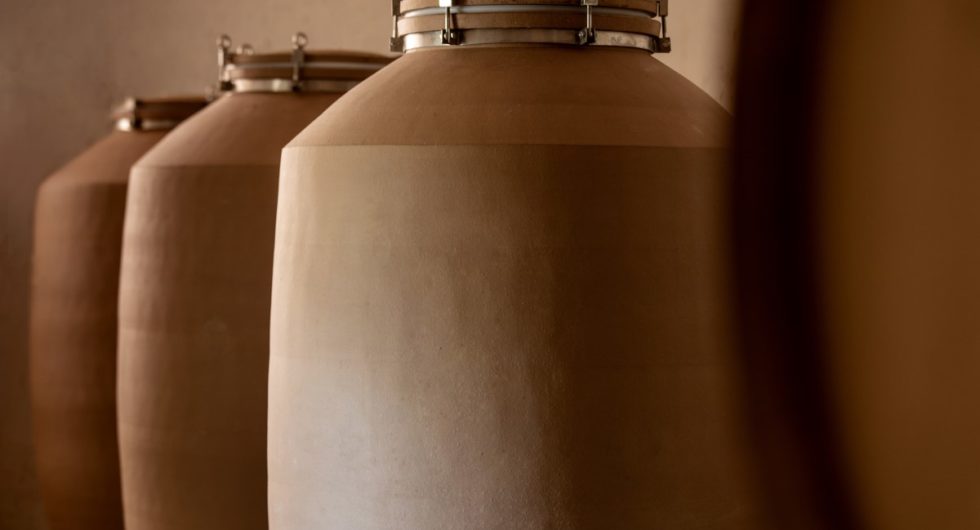 The Saint-Siméon oppidum in Pézenas bears witness to Iron Age settlements in this area, falling at around 1,100 BC in the Mediterranean world. Multi-level excavations have uncovered amphora shards, Etruscan polishers, fragments of basalt millstones, and pre-Roman dolia edges – in other words, all items indicating settlements of people who found the ideal conditions for a permanent home amid what is now the Pézenas vineyards. With all of these fragments of the past resurfacing with even the slightest stroke of the plough, what else could we do but draw inspiration from the first grape pickers working here and reintroduce terracotta to the Domaine de Nizas cellars? Nizas was the first Domaines François Lurton estate to use this material. Like in Roussillon, Chile or Spain, the entire harvest is processed with no additional sulphur. But here, the very nature of the soils and subsoils inspired them to go further in their pursuit of the pure, multifaceted expression of this exceptional terroir. Nizas led the way, and equipped all of its wineries based on different combinations of grape varieties and materials. In Spain, Tempranillo can be found in gently heated Tuscan terracotta rich in galestro (calcareous residue) and others richer in silica, baked at 1,300°C and less gas-permeable. Before being fermented, the de-stemmed and sorted grapes undergo five days of pre-fermentation cold maceration and are then reheated to restart fermentation with no lag time. The harvest is processed in eggs using simple punching down, the frequency of which is dictated by tasting. Once the extraction period is complete in the aqueous phase, the wine is placed in an amphora where it undergoes malolactic fermentation and is matured for months. Mas Janeil's Mourvèdre and a Syrah are also made in this way. A Chilean Carménère and an Argentinian Malbec will draw inspiration from this next March, also including integral fermentation for the grapes with the greatest potential. One Mas Janeil white in Roussillon is vinified on the skins. Once alcoholic fermentation is complete and the wine is decanted, it is racked without pressing the skins (orange wine). At Nizas, long stoneware jars, which are less porous to oxygen than terracotta, are used to ferment rosés made from Grenache Noir and Syrah. The wines are kept on the lees with no added sulphur until being bottled, with the minerality of the wine coming through after just two months of maturation. To enable easier suspension of the lees in future white Clos de Lolol wines, we equipped Hacienda Araucano in Chile with elongated oval-shaped stoneware, positioned on a wheeled base that enables it to be turned easily. Suspended just by rotating the container 180°, the lees supply the wine with components created during fermentation, making it more complex and longer lasting. In a variety of shapes and compositions, not necessarily better than other materials but offering different options, the amphoras that we use across Domaines François Lurton nevertheless excel, and enhance our terroirs here even more than elsewhere. However, the resulting wines are currently blended with others that are processed differently. Because if a winegrower has selected a terroir, it is also down to them to determine what expression they wish to highlight and what he feels transcend it.
By Xavier-Luc Linglin – Director