You must be old enough to consume alcohol legally in your country of residence.
Enter in the website
Gobelet and wire-trained vineyards
'The art of cultivating diversity in the blend'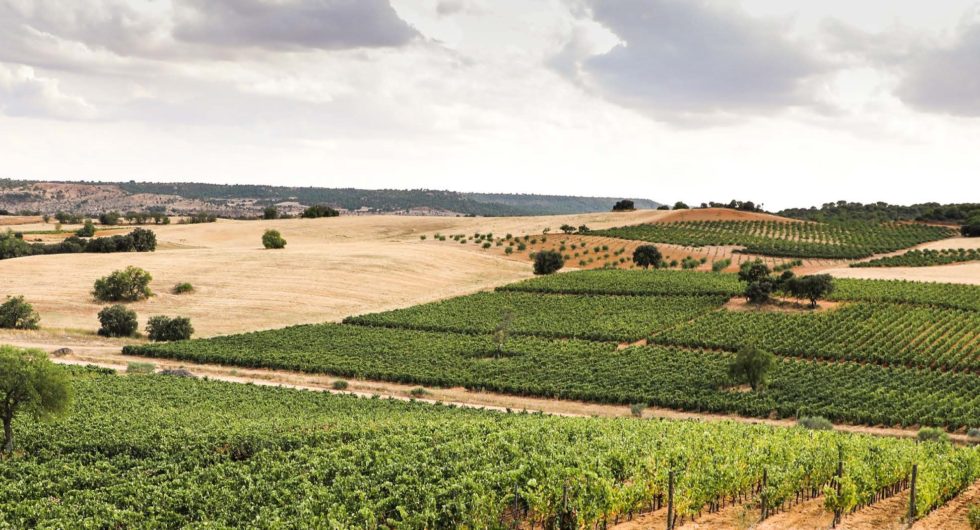 Bodega Campo Elíseo Toro uses two different vine training methods – traditional gobelet and modern wire. Rather than pitting them against each other, we combine them to form a complementary whole. Here we present two vineyards in Toro DO, planted with the region's native variety of Tinta de Toro: Pago de Oro in old gobelet and Peleagonzalo in young wire-training.
Pago de Oro
A plot of gobelet-trained vines that are at risk.
As a piece of our region's living heritage, in every vintage it is a part of the blend for the iconic Campo Elíseo Toro DO. It is made at low yields from hugely complex grapes with concentrated aromas, with fruit offering high polyphenol levels that ferments perfectly in barrels. As the traditional Mediterranean form of training, the gobelet is ideal for the semi-arid continental climate and meagre soils of Toro DO. It does not require any irrigation, and its low planting density means that there is not excessive competition between vines. Each plant therefore has access to the resources it needs via its root system. The gobelet initially goes vertically upwards in the spring, before then running back down to the soil during the summer heat to protect the grapes and seek moisture. These vines are very resilient to drought and heat. Since 2018, we have been embarking on an ambitious plan to preserve this vineyard. Our plot was included in the land register in 1950, but is most likely older. It stands at 680 metres above sea level and is planted at a low density of three metres by three in an area of 3.3 hectares. Following heavy damage by esca in recent years, just 2700 vines are still in production.
The Spanish technical team led by Germán Nieto Tejo launched interplanting. This began with deficiency zoning via a drone overview and soil counting to map the plot vine by vine.
The first stage of interplanting was performed using the plot's clone grafted onto American rootstock, and the second stage was in 2019/20 with ungrafted vines. There is a large area at the centre that has not yet been interplanted.
To enable the planting of ungrafted vines, we prune the vine shoots during the winter so that they can root for the whole of the following year. This operation cannot be performed if the vine shoots are very weak, as unfortunately occurred last year. The next interplanting stage in 2021 will be performed using grafted vines.
This meticulous work is one of our strong commitments to conserving and preserving the region's wealth and identity.
Peleagonzalo
A vision of the future with a plot of wire-trained vines, irrigated and at high density.
It was planted in 2007 in Laguna Seca, south-west of the village of Toro in a hilly valley, bordered by small pine trees typical of the region. It is a 5.6-hectare plot of Tinta de Toro at a density of 6,000 vines per hectare, with Bordeaux-style wire training. The addition of a drop-fed irrigation system at this high density level is the key that enables the plants to grow, and allows us to regulate water stress. The aim of a vineyard like this is to regulate the load carried by each individual vine and to gain a larger, better exposed leaf area, enabling efficient photosynthesis. Thanks to the occasional addition of water, the vines are able to withstand heat and drought which regulates their water stress, meaning that the plant is not stunted and the grapes ripen fully. In a semi-arid climate such as Castilla y Léon, this form of winegrowing enables us to obtain controlled yields with grapes that offer hugely refined aromas: elegant, floral, with a lower sugar content and better natural acidity. At Peleagonzalo, we can produce grapes with a balance and freshness that is rare for Toro.
Subdivided into eleven distinct plots, each batch is vinified separately. Since 2017, the oldest plots have been made using the same technical methodology as the historic gobelet-trained plots: integral vinification in barrels for some parts and fermentation in concrete vats for others, followed by maturation in French oak barrels.
The huge finesse and balance of our micro-cuvées from Peleagonzalo will soon be forming part of Campo Elíseo. Their fresh fruit aromas, tension and elegance will enhance the blend of our fine wine.
By Mathilde Bazin de Caix – Director of Bodegas Campo Eliseo and Hermanos Lurton