You must be old enough to consume alcohol legally in your country of residence.
Enter in the website
'Mathilde' style Pissaladière
Delicious with Campo Eliseo Rueda!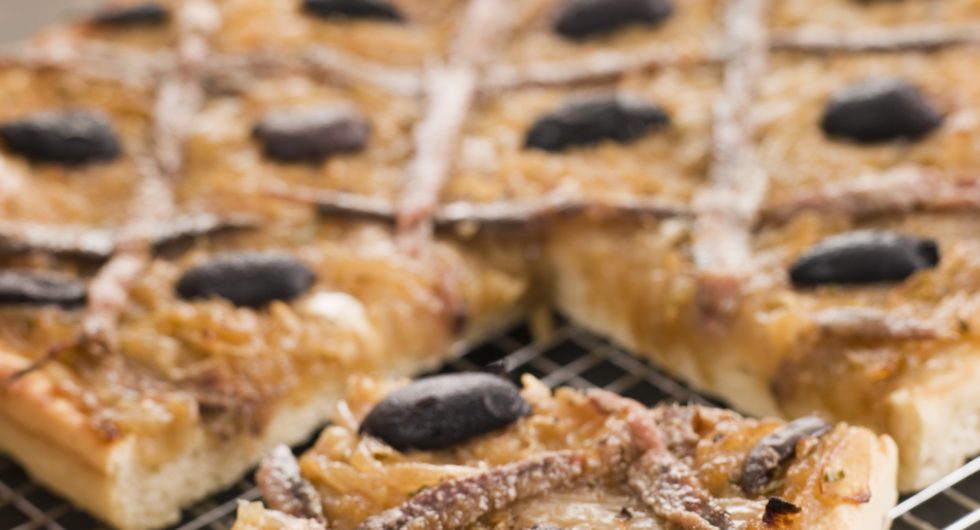 Pissaladière is a culinary speciality from Nice. This fine onion and anchovy tart is very easy to make. It can be served as an aperitif, or as a main with a green salad.
It goes perfectly with characterful fine white wines or rosés. I suggest pairing it with Campo Elíseo Verdejo.
– 1 sheet puff pastry
– 3-4 onions
– Around ten marinated anchovies (Cantabrian if possible)
– 30 g black olives
– Dijon mustard
– Salt, pepper, olive oil, Herbes de Provence blend, sugar
Preheat the oven to 180°C. Spread out your pastry sheet on a flat baking tray, folding the edges in. Blind bake the pastry for 10-15 minutes (cover with a piece of baking paper and weights or dry beans to prevent it from puffing up).
Peel and finely chop the onions.
Add some olive oil to a saucepan and cook the onions over a low heat. Season with salt and pepper and add some Herbes de Provence blend or thyme. Blanch without caramelising, and add a pinch of sugar at the end to gently soften.
Take the pastry, cover with a thin layer of mustard as a base, add the chopped onions, and place the anchovies and olives on top.
Bake for 10-15 minutes (depending on your oven) until the pastry is crisp and the onions are well caramelised.
You can add tomatoes and peppers to your pissaladière, skip the mustard, or make it on a pizza base.
Serve hot, warm or cold.
Bon appétit!
By Mathilde Bazin de Caix, Director of Bodegas Campo Eliseo and Hermanos Lurton